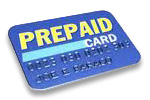 Prepaid card poker rooms are getting more and more popular these days, since more and more players are choosing this as their payment method. There are many advantages that players will get for using prepaid cards when making deposits at online poker rooms, one of them is the fact that they are simple and safe to use.
The moment you opt for a prepaid card for making a deposit at your favorite online poker room you will be making a clean transaction without the hassle that comes along when depositing with credit cards and other online payment methods.
Online poker rooms which accept prepaid cards payments enlarge their customers base quite a lot, because almost everyone and anyone can make use this specific payment method.
If you are going to use a prepaid card in order to make a deposit at a online poker room, you are going to remove the tension which is usually created the moment you are sending personal -, credit card -, or banking information over the Internet.
The different prepaid cards currently available on the market are accepted by most of current online poker rooms, so we suggest you to do a little, but proper research before selecting the prepaid card you are going to use.
In case you are wondering where you can find prepaid cards, well… the answer is very simple. You can buy prepaid cards almost everywhere; gas stations, grocery stores, or even at Walmarts across the United States. Prepaid cards are a great alternative and they allow you to avoid making a deposit at using your credit card. (And so your husband/wife won't find out about it either.)
The following is a list with the most commonly accepted prepaid cards at online poker rooms:
Ukash
Paysafecard
UseMyBank
Prima Pin
VirtualPin
Just like any online payment method, however, prepaid cards do have some disadvantages to them. One of them is the fact that you can only use a prepaid card for funding your online poker account, and so you won't be able to use for cashing out any money that you win with playing online poker. In case you are planning to make withdrawals you will have to use an additional online payment method, or perhaps request a check over mail, next to using a prepaid card.