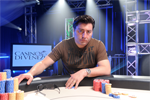 Ali Tekintamgac, an entrepreneur aged 41 from Germany, has won the World Poker Tour Spanish Championship Main Event, held at Barcelona and sponsored by Party Poker. Ali won a fabulous prize of €315,000, the WPT title, an entry to the WPT World Championship 2011 worth $25,500, and a Tiffany bracelet. The Main Event, which had a buy-in of €3,200 plus €300 witnessed 326 talented poker players fighting for the title as well as a share of €1,043,200 for the top 36 players.
Tekintamgac, a father of one who hails from Augsburg in Germany, is an amateur poker player. WPT Barcelona is his second significant tournament. His first major poker tournament was the EPT Grand Final held in Monte Carlo, in which he finished 125th and won €15,000. Ali's name now features in the record books of WPT along with names of previous winners such as the Austrian Markus Lehmann, Danish Casper Hansen, and American Mark Randal Flowers.
When Ali reached the final tables, he had a considerable stack of chips, a situation that he used very well. He said that he started playing poker 20 years ago, but decided to participate in major tournaments recently. He said that the second day held the turning point for him owing to the presence of a large pot and the fact that he had an A2.
Spectators were also quite impressed by the performance of Manuel Blaschke of Vienna, aged 18, who finished fourth. The tournament runner-up was Roberto Santiago, the 40-year-old film director from Madrid, who had arrived for the Party Poker Celebrity Invitational Event, organized to aid Fundacion Pare Manel. Currently engaged in a poker screenplay project, he spoke about what a fantastic experience the WPT tournament was for him and labeled it as a "brilliant tournament." Roberto plans to use his prize money to finance his poker film project.
Roberto became very popular in Spain for his football film of 2005 titled, "The Longest Penalty in the World." He says that movies on poker can greatly enhance the popularity of poker, which has already captured the attention of the people of Spain.