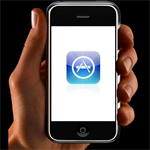 With the advent of the Unlawful Internet Gambling Enforcement Act (UIGEA) in 2006, many gamblers in the US wondered if they would ever get to see the luxury of iPhone gambling, which came to Europe long before it reached the States.  UIGEA regulations, which make internet gambling more complicated, also greatly complicate iPhone gambling, by putting restrictions on how sites get and return money, and how the banks are allowed to do business with those sites.  At long last, however, there are some good apps available for American iPhone users that will let them undertake their favourite hobby.
Sportsbook and Bookmaker were two of the first apps available for iPhone gambling in the US.  Both of these apps allow users to place real-money bets through their phones, and both have been around for a long time before making their services mobile.  Both sites offer extensive bonuses for gamblers who make bets through the mobile; Sportsbook refunds the first $10 of losses on mobile bets, while Bookmaker allows users to earn double points in their loyalty program when users partake of gambling through their mobile device.  Both sites offer matching bonuses upon sign-up, although Bookmaker's is more substantial, with a 300% match on up to 100 dollars.  Bookmaker's options include all manner of US professional sports, including golf, tennis, and horse racing, with a customized section for making equestrian event bookings that involve statistics and track records.  Sportsbook offers easier deposits and withdrawals and offers a wide variety of sidebetting options, such as betting on the split on a game, as well as countless promotions, such as reduced rate Fridays and NBA college promos.  Both sites have proved themselves reliable over the years, and their mobile options for iPhone gambling are no exception.
If you're looking for real-money poker games instead, there's some bad news:  the iPhone gambling world simply hasn't progressed that far.  Switch Poker created the first real-money mobile app in late 2010, but they don't permit US players, nor do the handful of other poker sites that are offering iPhone gambling with real money.  The American poker market will surely catch up soon, but in the meantime, you can hone your skills with apps like Zynga's poker app or the Texas Hold'em app released by Apple.  While you can't play for real money, you'll find plenty of competition willing to help you step up your game so that you can make a killing the next time the stakes are real.